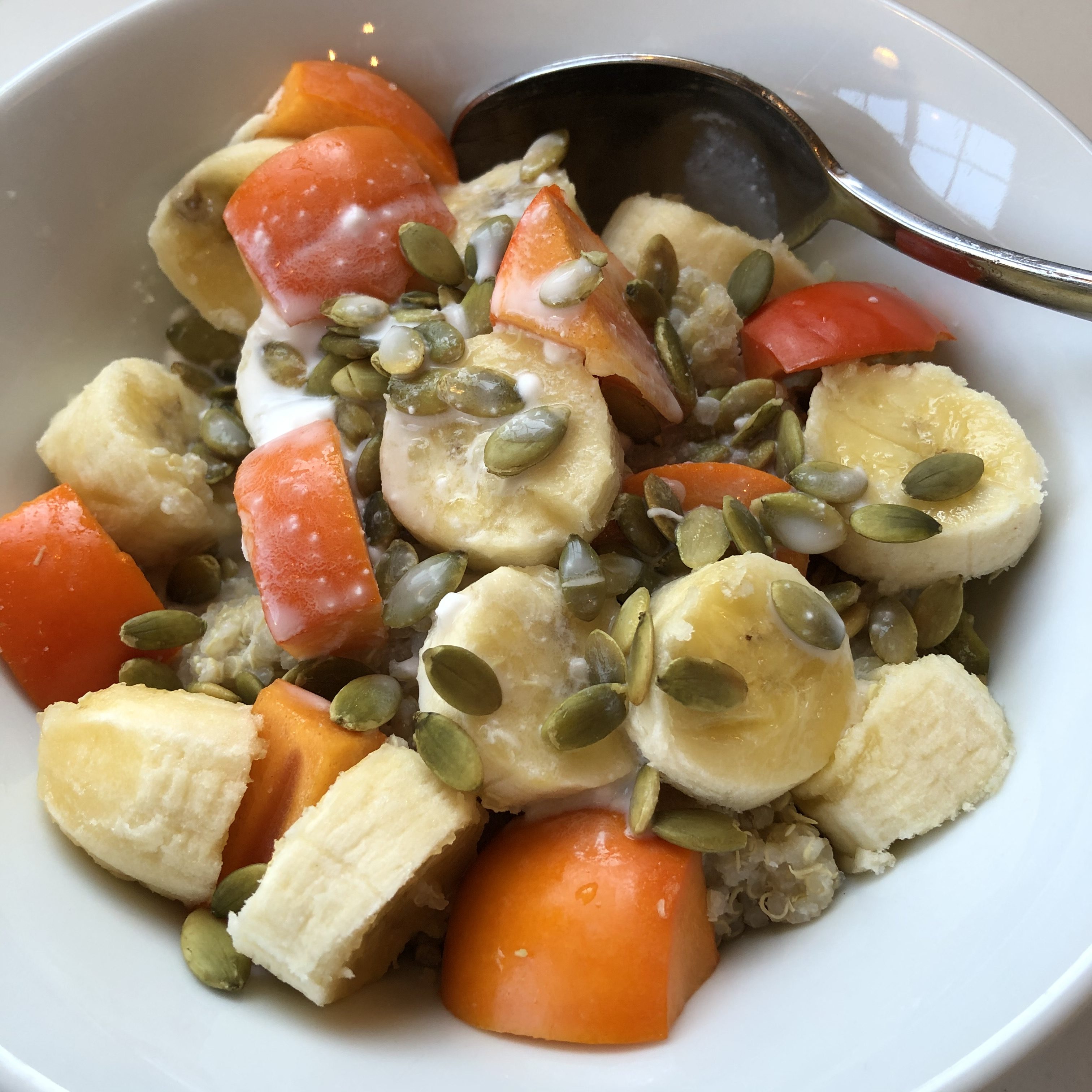 07 Nov

Magical Quinoa

I just have to share this with you.

A month or so ago I made quinoa following the directions on the packet.

It was bland, dry, basically tasteless. Blech!

I thought, "I don't care how nutritious people say this is. I just don't like it."

Well, as with everything, it really depends on how you prepare it, right?

I recently learned an easy, new preparation technique and stepped up my quinoa game. (Thank you Ai Kubo!)
Now I'm obsessed with quinoa! 🙂
Yay! Good taste AND nutrients!
The nutrition geek in me needs to tell you how quinoa is loaded with magnesium- a mineral that plays a vital role in maintaining a steady heartbeat, blood pressure, glucose control, energy metabolism, and bone health.
Keeping up our stores of magnesium is especially important as we age!
Yet we tend to be depleted of magnesium because we luvs us some caffeine, alcohol, and sugar, don't we?!
So we could opt for mackerel (108 mg of magnesium), cashews (80 mg of magnesium) or go for the gusto of quinoa (118 mg of magnesium) to contribute to that recommended daily intake of 375 mg of magnesium.
To that end, here is the recipe for the magical quinoa – including a sister recipe for a quinoa breakfast porridge. (My new favorite morning choice!)
And hey, while we're at it, here are some tips on mackerel, too. (This was another surprising upgrade to my list of go-to meals!)
Let me know what you think!
Magical Quinoa
Ingredients
~10

cups

water

(divided)

2

cups

white quinoa

(for some reason the other types don't sprout as well)

2

tbsp

coconut oil

1

tsp

sea salt
Instructions
Soak quinoa overnight (up to 24 hours) in about 8 cups of water (you'll see little sprouts)

When done soaking, rinse thoroughly and drain

In a pot, add quinoa and 2 cups water, plus coconut oil and sea salt

Cover and simmer for 10 minutes

Remove from heat and let sit, covered, for another 10 minutes
Notes
Magical Quinoa Breakfast Porridge
What to do with all that quinoa? Eat it for breakfast! It can be warmed up or eaten cold. Be creative to suit your morning tastes.
1 cup cooked magical quinoa
2-3 tbsp coconut milk
Top with any of these options:
   -- fresh fruit - banana, berries, stone fruit
   -- dried fruit - raisins, cranberries
   -- seeds and nuts - flax seeds, pumpkin seeds, sprouted almonds
   -- coconut flakes
   -- drizzle of date syrup or honey
Try a more savory version warmed up with leftover cooked greens, pumpkin seeds, and a soft-boiled egg drizzled with warm, melted ghee.