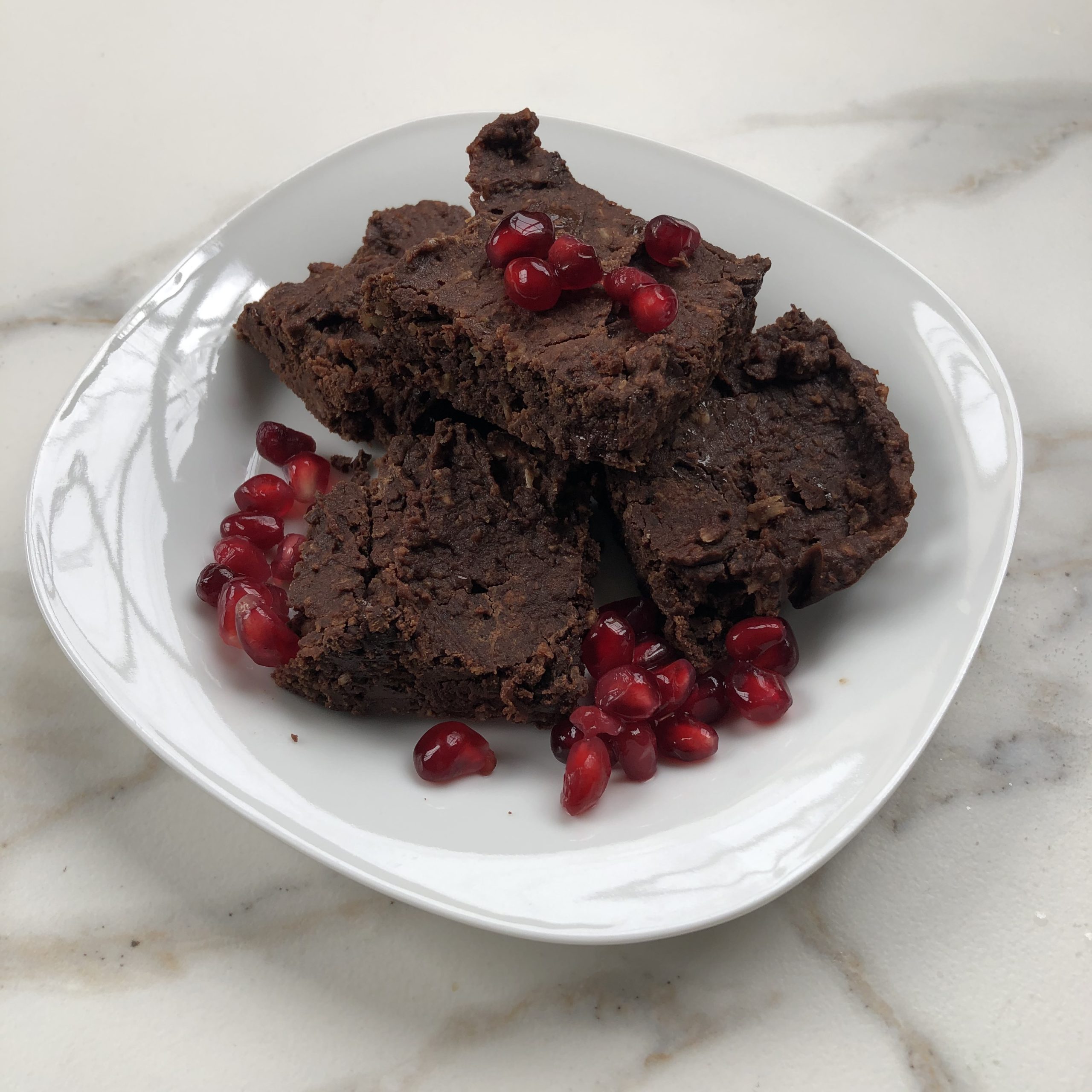 08 Dec

GFY Brownies

The other day I wanted brownies.

You know that "need" right?

It's been a while since I've made any kind of baked goods because even with gluten-free flours most of them just don't have the right texture – it's either gummy or it disappears in your mouth and you know you've just ingested a crap-load of overly processed carbs.

Most of the "gluten-free" products use rice or potato flour which is highly glycemic and lack all the fiber of whole grain flours so they are really not healthy alternatives.

Then I discovered the beauty of black bean brownies and I've worked on a recipe that is tasty, quick, and easy-peazy. They're super fudgey.

It's my "GFY" version – you can make 'em in a jiffy AND they are Good-For-You (in moderation of course :-))
GFY Brownies
Try this tasty, quick, easy-peezy, gluten-free brownie recipe that has a lot of nutrients! You can create them in a "jiffy" and they are Good For You!  
Ingredients
1

can

black beans

(rinsed)

4

tbsp

raw cacao powder

½

tsp

salt

½

cup

oats

¼

cup

honey

⅓

cup

coconut oil

(melted)

2

tsp

vanilla extract

1

tsp

baking powder

½

cup

chocolate chips or chunks

(your choice dark or semi-sweet)
Instructions
Pre-heat oven to 350 degrees F

Place all ingredients – except chocolate chips/chunks – into a food processor

Pulse first until mixed, then blend until smooth

NOTE: If you don't have a food processor you could try a blender or maybe better yet use a manual potato masher so the beans are mushed

Cover bottom of 8x8 baking pan with parchment paper

Pour batter into pan over parchment paper and fold in the chocolate chips/chunks.
Smooth to corners

Bake 20-25 minutes until a knife or fork comes out clean

Let cool for 10-15 minutes before cutting. Enjoy!
Notes
A word about why they are GFY:
Black beans - no salt added in a BPA-free can – add extra fiber that is lost by not using wheat flour (many gluten-free foods are so bad for your digestion because they substitute with fiber-less ingredients)
Oats can be certified gluten-free if you have celiac disease
Honey has a lot of natural enzymes vs the purely nutrient-vacant processed sugar
Raw cacao powder is made by cold pressing unroasted cacao beans, retaining the living enzymes in cacao. (Cocoa powder comes from the same plant but has been roasted at high temps and lost most of its nutrients.)
Where you can, choose organic ingredients to avoid ingesting toxic pesticides.